Category —
Breakfast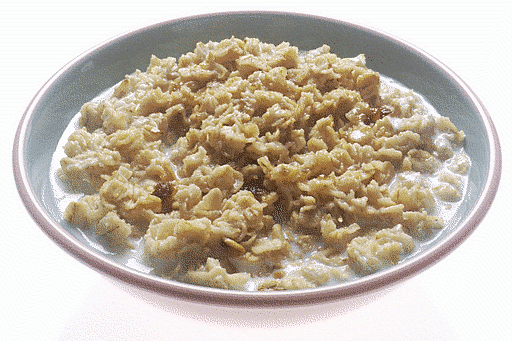 Yes, your mother was right, breakfast is the most important meal of the day. However, for most people it can be a chore to prepare something healthy especially when you're in a hurry.
For me, it's all about oatmeal with freshly cut bananas and a side of egg whites. It's a combination of complex carbohydrates and protein that keeps me fueled throughout the entire day. I buy the "Quick Cooking" oats that can be zapped in the microwave in just over a minute.
On really busy days I'll grab a meal replacement bar (usually Met-Rx) and wash it down with glass of fat-free milk. However, oatmeal is a must for me on workout days because it keeps my energy levels up.
It's important to treat your body like a car fueling up for a long trip. If you put the right stuff in, you're going complete your journey, if not, you're going to stall midday.
The key is finding what works for you. Let me know what you consider to be your breakfast of choice?
September 8, 2009 441 Comments
In the spirit of the upcoming Olympic Summer Games Maria Noel Groves of the Chicago Sun-Times wrote an interesting article comparing the variations between cultures and their ideas of what energy foods are.
For instance, Ancient Europeans believed boiled meat, barley pouridge, and wine worked the best in increasing energy and protection from injury. While the first two were probably great we know today that the latter is probably not the best choice for an athlete or warrior — especially right before battle.
The Chinese and Japanese rely on soups and herbs as their main sources of energy. While they may be content with it, Groves says that it's effects are still largely unknown:
Herbs believed to strengthen resistance to stress traditionally have been simmered into soups, teas and rice dishes. Chinese and American ginseng, as well as the caterpillar fungus cordyceps, have been popular among athletes and royalty for centuries. Reishi and shiitake mushrooms, lycium berries, jujube dates, astragalus and codonopsis roots also have consumed as energy foods.

Verdict: While broths and soups provide easily digested nutrients, modern research on many medicinal herbs is limited, as is understanding of how they might work.
Groves also states that while North Americans turn to energy drinks and bars as quick, convenient energy sources, they're not necessarily the best becuase they contain high amounts of sugars and artifical ingredients. I think with any supplement it's important not to rely only on that supplement, you have to combine it with real food and good nutrition. If you have an energy bar before going to the gym, that's fine. But don't rely on just a Red Bull for breakfast to keep your energy levels up throughout the day — you need substantial food.
July 30, 2008 45 Comments
Leah Perrier at Healthcastle.com lists the Top 5 Super Foods for Athletes. Not surprisingly, oatmeal is listed is given the top spot. The combination of whole grains, cholesterol fighting soluble fiber, and slow burning [good] carbohydrates make this the ultimate breakfast food.
Oatmeal works to maintain increased energy levels by slowing glucose absorption in the body. Steel cut oatmeal is oatmeal in its purest form, with minimal processing and no sugar added unlike some instant oatmeals.
Try McCann's Steel Cut Irish Oatmeal with some berries!
April 15, 2008 5 Comments