Category —
Biceps
If you're like me then you're always looking for new ways to shock your muscles to get maximum gains. I was at the gym recently when a friend introduced me to the 20s technique for biceps. It involves 3 sets of barbell curls and within those sets are 3 seperate movements.
You start off standing with the barbell in your hands. Then you start to raise it up as if you're doing a full curl, however with this first movement you do a "half curl" raising it up to where your arms are at a 90 degree angle (8-10 reps). Then for the next movement you start at the 90 degree point and raise it all the way up. In essence you're doing another "half curl" but just in the opposite direction (8-10 reps). Then for the final movement you do a full curl (8-10 reps).
Compete 3 sets of those 3 movements and you're sure to feel the burn afterwards!
March 11, 2009 1,208 Comments
Myatt Murphy and Mike Mejia at MensHealth.com say that the key to making your biceps "pop" is variation in your exercises (see Close-Grip Chinup and Towel Inverted Row. 
Don't continue to do the same bicep workout each time; mix it up a bit! In order for those veins to show you need to have your body fat under 15%.
The anatomy of your biceps' fibers are tailor made to bulge out, all you have to do is work them out!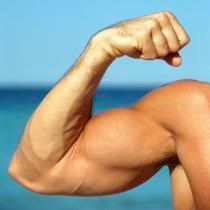 March 28, 2008 28 Comments