I recently spoke to a friend who told me he was doing 45 minutes on the elliptical machine every night because he was trying to "get big." While that will no doubt help him shed pounds and fat, it won't help him build lean muscle.
So how much is too much when it comes to cardio? The answer is simple — it all depends on your personal fitness goals. If your goal is to strictly lose weight then 30-45 minutes of cardio is ideal. However, if you're lifting regularly then you want to aim for 20 minutes of low intensity cardio after every workout.
Keep in mind, this is just a general rule. As I always say, different techniques will work for different people. You just have to find what works for you. Just remember that building muscle requires more calories, so if you're doing longer cardio sessions you're obviously burning more calories and that's cutting into your muscle mass.
In the end it's all about the look you wish to achieve. I would love to hear what works for you. What's your cardio of choice and for how long? What intensity do you find works best for you? Share your thoughts.
All of us have sweet cravings, but very rarely can we satisfy those cravings with something healthy that your body can actually use for sustainable energy.
Well, I recently came across a snack that can do just that. It's from Hollywood icon Sylvester Stallone's book Sly Moves (which is a great book on health and fitness). It's actually a cookie he created when he was filming the Rocky movies that would keep his energy levels up all day.
So give them a try! I usually double up on the recipe because they go so fast (you can't eat just one), and that's okay because they're good for you!
1/2 cup whole wheat flour
3/8 cup brown rice flour
1/4 teaspoon baking soda
1/2 teaspoon ground cinnamon
1/4 teaspoon salt
3/8 cup brown sugar
3/4 cup Quaker old-fashioned rolled oats
1/2 egg
1/4 cup olive oil
2 tablespoons water
1/2 tablespoon molasses
Preheat over to 375 degrees. In a medium-size bowl, combine wheat and rice flour, baking soda, cinnamon, salt, brown sugar, and oats. Make in indentation in the center and add egg, olive oil, water, and molasses. Mix vigorously until the dough is moistened. Roll into tablespoon-size balls and place two inches apart on ungreased cookie sheet. Bake 8-10 minutes or until done. Remove cookies from oven and cool on wire rack. They should be soft and slightly chewy.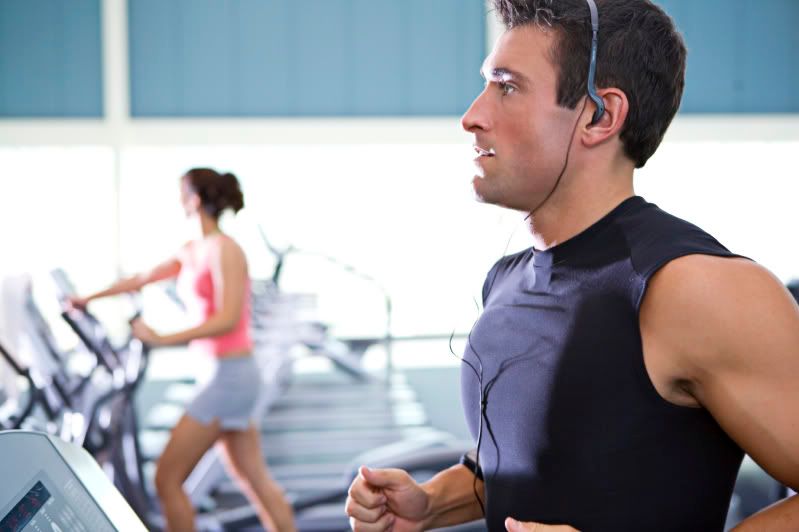 I don't know about you, but I never step foot into the gym without my iPod. For me, music is the ultimate motivator when it comes to working out. Sometimes the right jam will help me go a little bit farther, complete that final rep, or run just a little bit longer. I have complied a list of some of the songs currently in my "workout mix" and I encourage all AMB readers to share their favorite songs too!
"Sexy Chick" — David Guetta feat. Akon
"Smooth Criminal" — Michael Jackson
"Till I Collapse" — Eminem
"Out Here Grindin" — DJ Khaled
"Morning After Dark" — Timbaland feat. SoShy and Nelly Furtado
"Escape Me" — Tiesto feat. CC Sheffield
"All the Right Moves" — One Republic
"Eye of the Tiger" — Survivor
"So Hard" — Rhianna feat. Young Jeezy
"Sound of Letting Go" — David Guetta feat. Chris Willis
"Going the Distance" — Bill Conti
So we've covered pre-workout snacks, now let's focus on what you consume after your workouts. This step is arguably the most important part of your workout because when you exercise you deplete your body's glycogen (the carb stored in your muscles and liver). That's why it's extremely vital that you replace what you lose so you can get the most out of your hard work.
Through my own personal experience and speaking with several personal trainers, I have come up with this list of the best post-workout meals:
5.  Piece of fish and baked potato — A muscle-building packed combination of quality protein and complex carbohydrates, this meal is a great way to end your workout. Go for salmon or tilapia as these have the highest amounts of protein.
4.  Chicken breast or steak and rice — Another classic meal that will maximize your workout. If you're buying steak make sure to pick sirloin or a lean cut which are a lot healthier. Don't forget the whole grain rice either!
3. Protein bar — This is only third on our list because it is a solid and will take a bit longer to absorb than its liquid counterparts. However, it's still a very effective post-workout meal. In this instance don't go for "Low carb" bars, instead buy a protein or meal replacement bar that has plenty of calories and carbohydrates to go along with at least 30 grams of protein. I like the MET-RX meal replacement bars.
2. Chocolate milk — This surprisingly effective recovery drink was almost a unanimous pick for all the experts I interviewed. Two cups of this stuff averages about 310-320 calories, 50 grams of carbs, and 16 grams of protein. Of course the liquid consistency will allow it to be absorbed quickly and carried to your depleted muscles.
1. Protein drink with whey — The original and still the best. No other food or drink can compare to the punch this packs when it comes to optimizing your workout. Whey protein is absorbed the fastest by your body and the liquid form will bring it to your muscles that much faster. If it's a low carb protein add in some berries or a banana to give it a boost. Optimum Nutrition's Hydro Whey is a good pick!
All of these foods should all be taken within 45 minutes after completion of your workout for best results.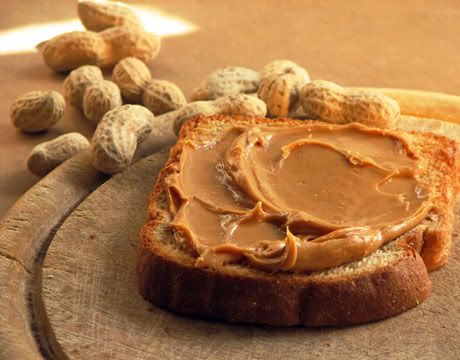 Okay so you've just left work and are heading to the gym, but you can feel your stomach sucking up against your spine. Your blood sugar is low and you need a jolt of energy before you start your workout. What do you do?
Ideally, a baked potato is the perfect pre-workout snack due to its high carbohydrate content. However, it's not very practical. And although you do need carbs, it is important to mix in some protein as well so you don't deplete your body's stored protein during your workout.
I like to grab a peanut butter sandwich on whole grain bread right before I hit the gym. The bread is a great source of complex-carbs and the peanut butter serves as my "good fat" and protein source. Sometimes I wash it down with a glass of milk to create a real "power snack."
Again, it's all about finding what works for you and what leaves you feeling your best before you get into the gym. Feel free to comment and share with us what you like to down before your workouts.
I was recently talking to my brother who is a certified personal trainer and we were talking about if it matters in terms of the types of exercises you're doing for each body part. For example, when training your triceps does it matter what order you perform dips, overhead extension, and tricep pulldown? The answer is it absolutely does.
If you are doing three exercises per body part you should always start with a pressing exercise, then move to an extension, and then a push or pulling motion. This will allow you to get the most out of your muscle fibers and prevent your muscles from failing when you get to your final few reps.
For those doing just two exercises for each muscle try to stick with a pressing movement and an extension.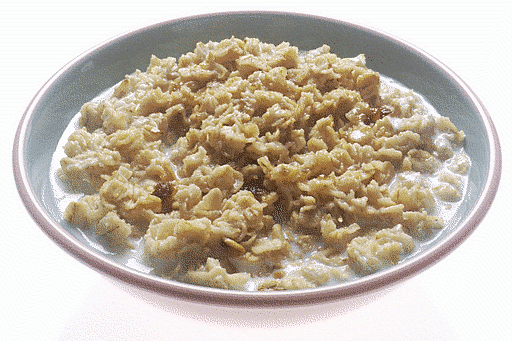 Yes, your mother was right, breakfast is the most important meal of the day. However, for most people it can be a chore to prepare something healthy especially when you're in a hurry.
For me, it's all about oatmeal with freshly cut bananas and a side of egg whites. It's a combination of complex carbohydrates and protein that keeps me fueled throughout the entire day. I buy the "Quick Cooking" oats that can be zapped in the microwave in just over a minute.
On really busy days I'll grab a meal replacement bar (usually Met-Rx) and wash it down with glass of fat-free milk. However, oatmeal is a must for me on workout days because it keeps my energy levels up.
It's important to treat your body like a car fueling up for a long trip. If you put the right stuff in, you're going complete your journey, if not, you're going to stall midday.
The key is finding what works for you. Let me know what you consider to be your breakfast of choice?
Men's Fitness magazine (June/July 2009, page 31) gives a great rundown of the best protein bargains at the supermarket. They took 12 of the most popular protein sources and listed their average cost per 10 grams. Here are their findings:
Black beans – $.13
Turkey – $.14
Chicken breast – $.24
Eggs – $.26
Whole Milk – $.30
Ground beef – $.34
Ham, boneless – $.40
Cheddar cheese – $.43
Peanuts – $.44
Sirloin steak – $.69
Cottage cheese – $.96
Soy milk – $1.26
My diet revolves around items two through four. Organic milk could be a better option for those who don't drink the whole kind. Stonyfield Farms makes a good organic, fat-free product.
Since I'm not a big fan of cottage cheese I'll often eat yogurt as a replacement. Foods like ham, sirloin steak, and ground beef are considered a "treat" for me—hence which is why they are some of the more pricier protein sources.
What about you? What protein sources do you eat the most from this list? Which ones were left out?
During these tough economic times we're all trying to find ways to save money. When looking at your fitness regimen you may want to consider your options. If you're paying a high monthly membership cost at your local gym, you might want to put a "freeze" on your account and look into a home fitness program, which is great for a couple of reasons.
First, they can provide a change of pace from the monotony of going to and from the gym everyday. Secondly, as discussed above, they can save you much needed dinero.
Here's a list of the most popular fitness programs on the market today:
5. Nordic Track — Their Personal Trainer III machine is still one of the best ones out there and offers the most bang for your buck. Resistance can be increased up to 220 lbs and there are no 'rods' or 'bows.' There's a high rate of customer satisfaction and it comes with specific workout program for each day of the week. Price: $599.99
4. Weider — The Pro Fury home gym is advertised as a 'complete, total body workout' and it certainly has the specs to back up that claim. It contains 6 pulleys, a removable bench, and the ability to allow two people to workout at the same time. The machine also has a 100 lb Cast Weight Stack and capacity for over 55 different exercises. Price: $799
3. Nautilus — As part of the Bowflex family, Nautilus' Freedom Trainer compares favorably to their Ultimate Home Gym, but costs a bit less. It contains weighted plates pulled by cables that can increase by increments of 15 lbs. The trainer's arms also adjust on two separate planes and counterbalance each other making for simple adjustment in vertical planes. Price: $3,520
2. Bowflex — The Bowflex 2 Ultimate Home Gym is one of the most advanced machines available today. It's a total body workout with over 95 exercises. It contains up to 310 lbs of resistance (upgradeable to 410). I've used this a few times and found it be very effective. However, if you're not used to training with 'bows' then it will take some getting used to. Price: $2,499
1. P90X — One of the fastest growing workout programs on the market, P90X is different because it's not a piece of equipment but a series of 12 DVDs that contain specific workouts designed to blast fat and build lean muscle in 90 days. I can vouch for this because I'm currently in my fifth week and seeing amazing results. It does require you to have a pull up bar and dumbells (or a resistance band). It also comes with a full nutrition guide. Price: $119.85
If you're like me then you're always looking for new ways to shock your muscles to get maximum gains. I was at the gym recently when a friend introduced me to the 20s technique for biceps. It involves 3 sets of barbell curls and within those sets are 3 seperate movements.
You start off standing with the barbell in your hands. Then you start to raise it up as if you're doing a full curl, however with this first movement you do a "half curl" raising it up to where your arms are at a 90 degree angle (8-10 reps). Then for the next movement you start at the 90 degree point and raise it all the way up. In essence you're doing another "half curl" but just in the opposite direction (8-10 reps). Then for the final movement you do a full curl (8-10 reps).
Compete 3 sets of those 3 movements and you're sure to feel the burn afterwards!